Becoming Europe's sustainable chemical park
In this section you will find a social media wall from Walls.io. In order to display this social media wall, you must agree to the use of external content (incl. cookies). By activating the "Load content" button, you agree to external content being displayed to you. This may transmit personal data, such as IP address and cookie information, to third-party platforms. Information can be found in the privacy policy and the setting can be changed again at any time in the cookie settings.
More than 70 companies at three sites in North Rhine-Westphalia make up the region's most important chemical site: CHEMPARK. Around 55,000 people work here, forming a strong network in research, development, production, logistics and services.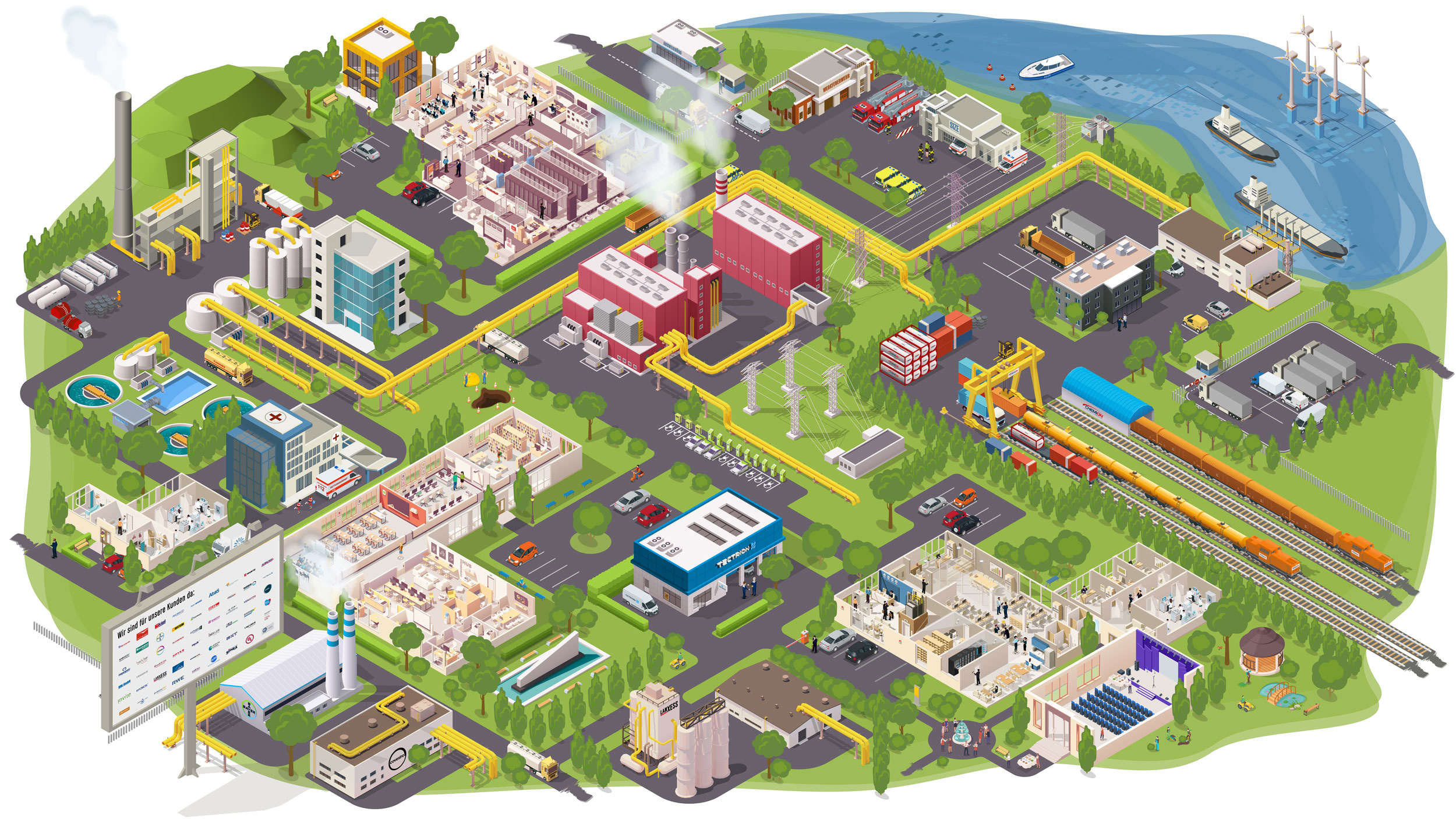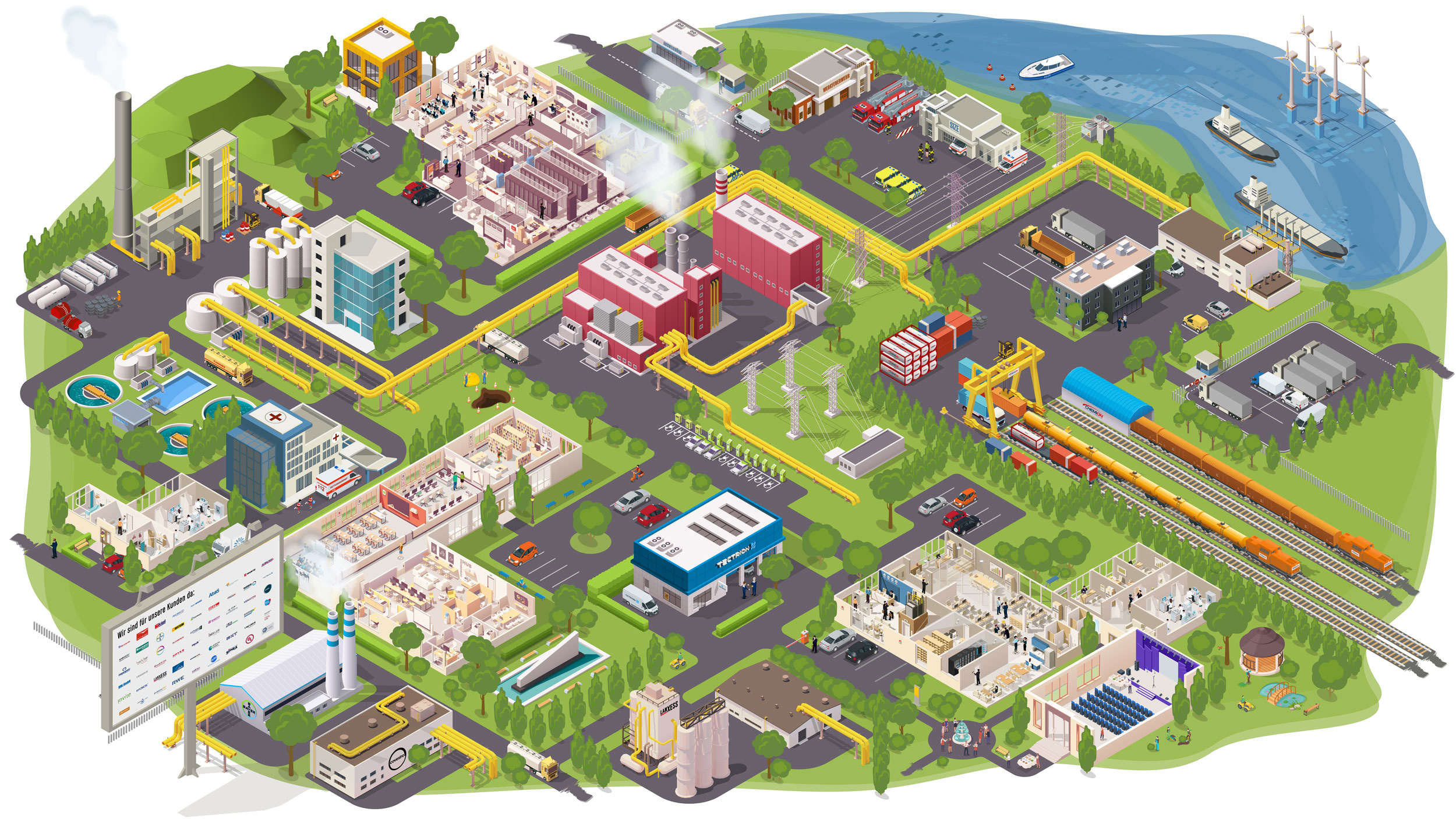 Waste heat utilisation
There is great potential for waste heat at the CHEMPARK. New technical developments, for example large heat pumps and more and more green electricity, are making their use increasingly economical. Therefore, waste heat utilisation will be an important component of the sustainability transformation and decarbonisation..
That is what we are doing in practice: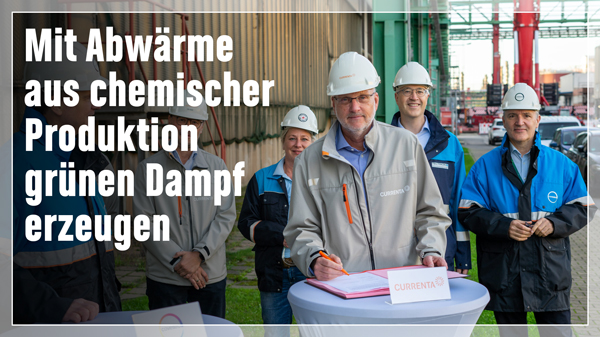 Digital heat register
The digital heat register is a software tool for systematically recording and visualising heat sinks and sources in CHEMPARK and deriving project ideas for sustainable heat supply. The data collected from customers is processed, fed into the CURRENTA data lake and analysed using mathematical models.
Chemical recycling
Breaking down end-of-life products into their chemical raw materials and making them fit for a second product life is possible, as Covestro shows with PU mattresses at CHEMPARK, most of which can now be chemically recycled.
Digitalisation Protection
In future, vehicle access to the CHEMPARK will be just as secure as it is today, using just an ID card. In fire protection and safety technology, the Services division is already accelerating and simplifying processes digitally, for example by recording the equipment to be tested and the test data fully electronically.
Electrode vessel
CURRENTA already generates climate-neutral steam in its electric boilers, which can be operated with green electricity. CHEMPARK is able to compensate for fluctuations in the electricity grid through its continuous demand. This is an important function for keeping the grid stable when large amounts of electricity are fed into it when there is a lot of sun and wind.
That is what we are doing in practice: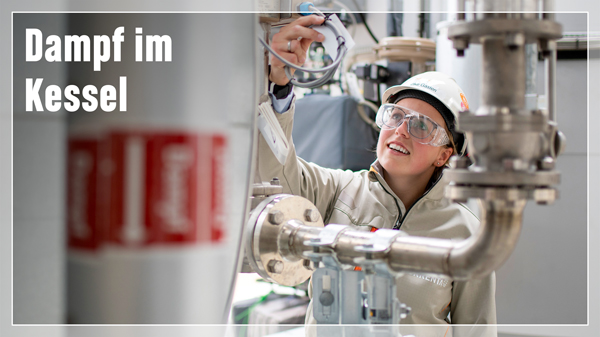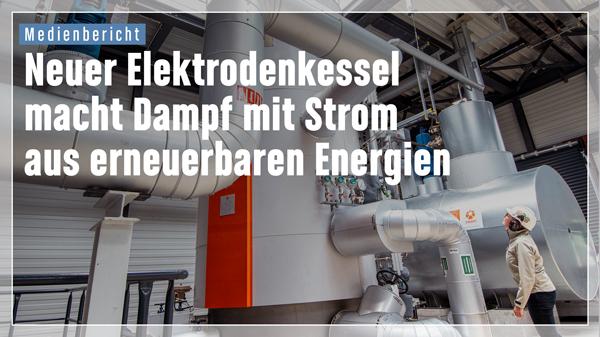 Electromobility
Chemion has been using electric delivery vehicles longer than the post office. There are now 82 charging points for the electric cars of CHEMPARK companies, powered 100% by green electricity.
Paperless laboratory
CURRENTA Analytik has digitised raw data and long-term archiving in order to meet the strict regulatory requirements of the German Medicines Act (GMP). The progressive automation of typical laboratory processes such as weighing-in with digital value transfers and electronic workflows (release and signature processes) are further milestones on the way to a lean laboratory and the conservation of resources.
Green electricity
As part of the sustainable transformation of the energy-intensive chemical industry, Currenta is also involved as an energy supplier. For example, we supply our customers with green energy products – e.g. green electricity via so-called PPA products from the market.
Hydrogen
Every CHEMPARK site already produces hydrogen that is used on site. In the future, it will be produced in a climate-neutral way, especially in sun- and wind-rich countries. In order to bring the sustainable raw material to the CHEMPARK for material, thermal and mobility applications, appropriate infrastructures must be built. CURRENTA is involved in establishing regional hydrogen platforms.
That is what we are doing in practice: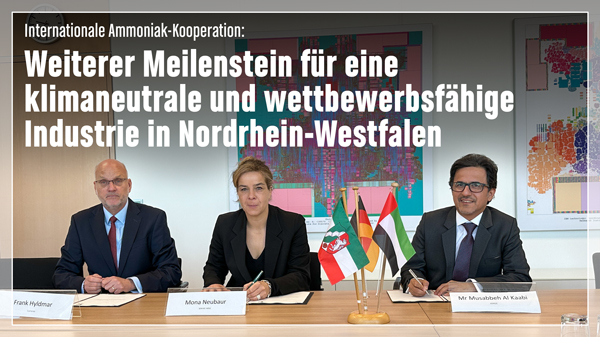 Digitalisation logistics
Das Integrierte Transport- und Ladestellenmanagement (ITLM) wird die Wartezeiten an den CHEMPARK-Standorten deutlich reduzieren. Chemion is building a digital platform for this purpose, into which all actors involved in the transport enter the relevant data and which is processed in real time. This ensures smooth processes with short waiting times for traffic and maximum transparency for the companies at the CHEMPARK.
Emissions
We want to reduce our emissions by at least 60 per cent by 2030. Coal phase-out, combined heat and power generation and electrode boilers are important building blocks for this.
Are you a customer, supplier, visitor or service provider at the CHEMPARK? Find everything you need to access the CHEMPARK here. If you have any questions, please contact us or ask your local contact person.
Dialogue
Do you have questions, would you like to know more about the CHEMPARK, or do you have good or critical remarks you would like to pass on to us? Contact us, let's talk to each other. Only through dialogue can we live up to our claim of connecting people and industry.
Sustainability at the Chempark
The sustainable chemical park - the change towards the future is our goal and at the same time our greatest task and challenge. We want to make our sites fit for the future with sustainable technologies, and help shape change with innovations and the use of renewable energies, hydrogen and low-emission heat utilization.